VC Reporter, 05-30-05, Memorial Day at St. Mary's Cemetery
This is the original article written by Michael Cicero, however this is not exactly what appeared in the VC Reporter due to space considerations.
Ungrateful Dead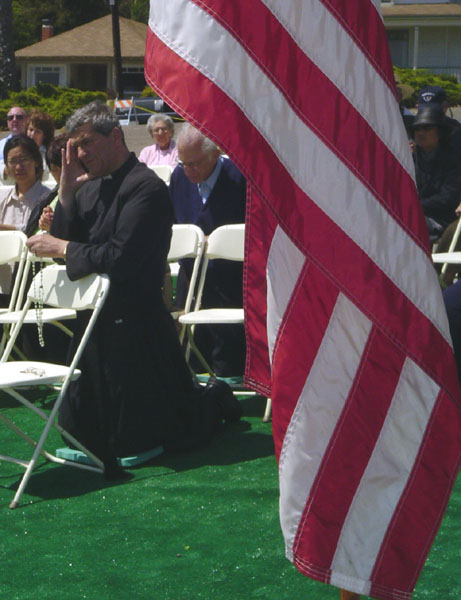 Father Brian Hawker traveled from Arcadia to Ventura on Memorial Day to pray for people who are believed to be buried beneath the parking lot adjacent to Cemetery Memorial Park.
At least 40 Catholics joined him for the lengthy Rosary prayer in the midday sun in an effort to petition God's help in "restoring [the cemetery] to its proper use," he said. He added, "It's a tragedy that they would desecrate the graves of these people." Santa Paula resident Michelle Loew called the city's treatment of the graves, "a disgrace."
The Rosary along with a memorial service for war veterans buried in the park was organized and paid for by Ventura resident Steve Schleder who's been campaigning to restore the cemetery for roughly two years.
Of the nearly 3,000 city pioneers, war heroes and Chumash buried there, only a relative few have the benefit of marked graves thanks to the city's decision in the mid-1960s to convert the cemetery to a park. Hundreds of valuable granite and marble headstones were removed from the cemetery and dumped in a nearby barranca.
The city is currently in the process of determining how to use funds earmarked for the park and recently surveyed residents for input. Results from the survey indicated that the majority of people polled would prefer the park to remain undeveloped though most are in favor of using funds to erect a memorial.
Schleder is holding out for a complete restoration of the cemetery and asking for a deeper investigation into what may lie beneath the parking lot. He believes hundreds of Catholics were buried there, but city officials say otherwise.
On Wednesday, June 15, the Parks and Recreation Commission will convene to prepare recommendations to City Council for improvements to cemetery park. The meeting will be held at 6:30 p.m. in Council Chambers at City Hall, 501 Poli St. The public and especially those concerned with historic preservation as well as descendants of the buried at Cemetery Park, are encouraged to attend and participate in discussion.
For more info visit www.restorestmarys.org.