By Sarah Carrillo, scarrillo@VenturaCountyStar.com
June 27, 2004 Historical streetlights formerly along Main Street and Thompson Boulevard in Ventura are safe from the scrap heap, thanks to Steve Schleder.
"It would be a shame to see them scrapped, melted down, lost forever," Schleder said.
Schleder wants the lights to be installed at midtown Ventura's Memorial Park, also known as Cemetery Park, as part of his plan to restore the former St. Mary's Cemetery there.
When he found out the city was planning to get rid of the lights, he searched for a nonprofit organization the city could donate them to. He found that the Ventura County Chinese American Historical Society, which is also working to restore the cemetery, was happy to help with the lights, too.
"They bent over backwards to help me," Schleder said. "They're great people. They will get the streetlights."
Schleder believes the lights date back to the 1920s or 1930s. They are cast-iron light poles, made from hot metal poured into a mold, which makes them incredibly heavy.
Mel Sheeler, owner of Sheeler Moving and Storage, has offered to help move and store the lights until they can be put around the old St. Mary's Cemetery, which has been replaced by the park and a parking lot.
"Cemetery Park has a long history, and this is a great opportunity to revitalize the cemetery and give it proper distinction, and it's a way for us to become involved," Sheeler said.
Schleder also wants to find and return headstones to their original places in the cemetery. He is working with city parks officials to prepare a proposal to take to the City Council.
Parks Supervisor Jerry Revard said there have been no decisions made yet and Schleder's proposal is one of many for the park. Others include moving historical homes and buildings to the park, restoring just the parking lot, or placing a memorial plaque in the park. Revard said the Parks Department will seek public input before any decisions are made.
"We're just giving him (Schleder) whatever information we can," Revard said. "He's very interested in trying to restore the park, but it's just one possibility to memorialize the cemetery."
Schleder said there are documents that show the original gravesites, so it would be a fairly simple task to return the headstones to their original locations.
The cemetery was created in 1862, reached capacity and closed in 1945. Many pioneers and Chumash Indians are buried there, Schleder said.
This is how the Street Lamps look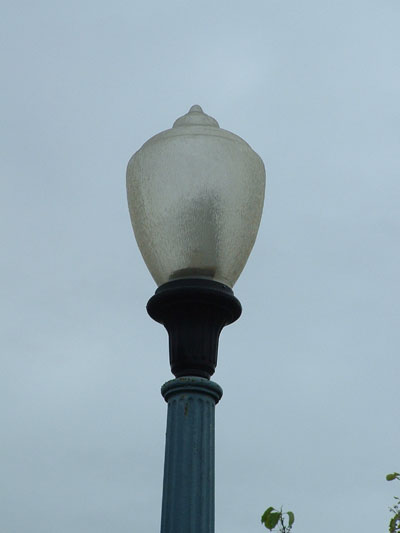 Street light globe at Dudley house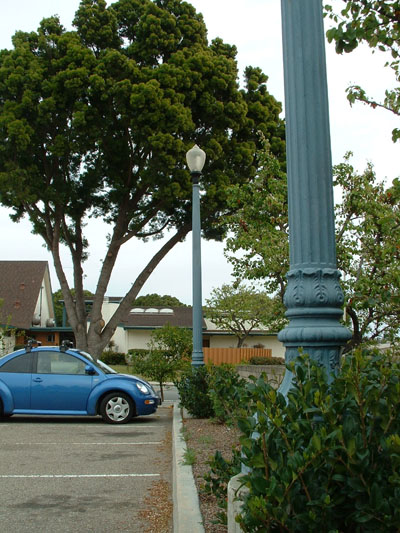 Restored lights at Dudley house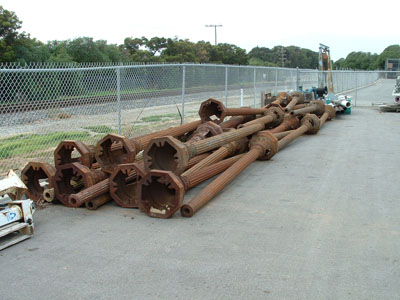 Street lights at city yard
Photos by Steve Schleder