Cemetery Memorial Park Improvements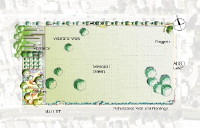 Cemetery Memorial Park Landscape Master Plan ( click for larger view )
In May 2007, City Council approved hiring the landscape architecture services of Katherine Spitz & Associates and artist services of Susan Narduli Studio to develop a plan for Cemetery Memorial Park improvements. The proposed plan is now complete and was presented at a joint public meeting of the Parks and Recreation Commission and the Public Art Commission on September 17, 2008. The Plan includes a memorial to commemorate those buried at the cemetery, memorial gardens, refurbished landscaping, veterans' memorial walk and flagpole, and repairs to the historic WPA rock wall. Additional public comment was taken at the Parks & Recreation Commission meeting Nov. 19, 2008. City Council will discuss the $4 million proposed plan in early 2009. Currently no funding exists for the improvements, but the project could be done in phases as future funding becomes available.

home | more articles | photos |records | contact us
Copyright © 2008 Restore St. Mary's Cemetery.
All the articles, pictures and music belong to their respective
owners