By Cheri Carlson
Tuesday, March 31, 2008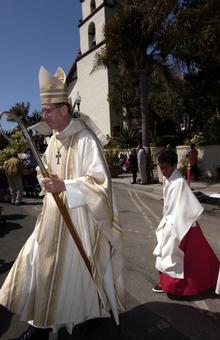 Jason Redmond / Star Staff
Cardinal Roger Mahony arrives at San Buenaventura Mission in downtown Ventura on Sunday to celebrate Mass in honor of the mission's 225th anniversary. Mahony is followed by altar boy Daniel Evans of Ventura.
Robert J. Lagomarsino joined a crowd of hundreds on Main Street in Ventura Sunday to celebrate the San Buenaventura Mission, founded 226 years ago today. Baptized in the church as a baby, Lagomarsino was 6 at the mission's 150th anniversary in 1932. He joined the committee organizing its 225th anniversary last year, and on Sunday, was one of about 600 gathered in downtown Ventura to close out the 20-month-long celebration. Main Street was shut down for the occasion. "It was founded 225 years ago by Father (Junipero) Serra," Lagomarsino said of his church. "It gives you a feeling of being part of history." The historic mission became a backdrop for Sunday's event, as Cardinal Roger Mahony celebrated Mass outdoors, standing on a stage framed by yellow and white flowers.
"Today we do celebrate with great joy these 225 years," Mahony told the crowd, "and, we look forward to this mission church remaining a sign and symbol of God's presence in our lives for many, many generations to come." Constructed from oak and pine beams and sun-dried mud, the mission was the ninth built in California and one of six personally dedicated by Serra. The church today is an active parish in the Archdiocese of Los Angeles. "It is important to have this kind of continuity of the people," Mahony told the crowd. "That's exactly what we celebrate today." Lagomarsino and other members of the mission's anniversary committee planned 20 months of celebrations, which started in August 2006. The events honored the mission — Ventura County's "mother church" — for its long-standing history, said John Eggler, co-chairman of the 225th anniversary committee. It also showed off its diversity and brought people together, he said. That's one reason why the church celebrated only one Mass Sunday, instead of its normal five. It provided an opportunity for all parishioners, both English- and Spanish-speaking, to come together. Everyone also was asked to bring a dish to share in a community picnic, held after the service Sunday. Several protesters waited until after the Mass before taking out signs and walking through the crowd. Holding signs — such as "Peace for our pioneers" and "Stop the grave desecration" — they said they wanted people to know about thousands of graves buried under the Holy Cross School, built in 1922 next to the mission, and in a nearby park formerly owned by the church. "We don't want to disrupt a religious service," said Steve Schleder, one of about 10 holding signs during the picnic. "We just want to get out the message." He considered Sunday's efforts "very successful," after one protester succeeded in handing Mahony a flier. Nearby, George Estrada and his family sat down with plates full of food from the potluck feast. He and his wife, Hermelinda, were married in the church in 1992 and their three children were baptized there. "It's part of the community," George Estrada said, adding that he thinks the mission will last at least another 225 years. Work started on the present church in 1792. It took 17 years before it was finished. Fire had destroyed the first church building, according to the mission's Web site, and a second church was abandoned when its doorway gave way. The church finished in 1809 has kept standing through earthquakes, a tidal wave, and more. "Our mission is more than a building and more than church," Rick Cole, co-chairman of the anniversary committee, said Sunday. "Our mission remains a spiritual home in the heart of our community."