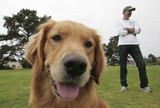 Photo by David Yamamoto, David Yamamoto / Special to the Star
Jeff Steve takes his dog Charlotte on her daily romp to the Cemetary Memorial Park on Wednesday in Ventura. Steve, who visited the park since 1991 feels strongly about the recent move by families of those buried at the park to have the city rule to turn the park into a memorial, saying,"its a shame the way things are. We love the park the way it is."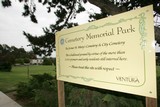 Photo by David Yamamoto, David Yamamoto / Special to the Star
A sign placed by the City of Ventura states to visitors that the park is the former site of the St. Mary's Cemetery and City Cemetery and asks that park visitors please treat the site with respect Wednesday at the Cemetery Memorial Park in Ventura.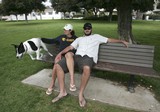 Sarah Hafley and Craig Cooksey sit on a bench while taking their dog Brady for a romp at the Cemetery Memorial Park on Wednesday in Ventura. Some people want dogs banned from the historic cemetery.
Recently installed signs at Ventura's Cemetery Memorial Park for the first time formally recognize the remains of some 3,000 "pioneers and early residents" still interred at the popular cemetery turned city park.
The three yellow signs, on poles at three entrances, provide temporary recognition for scores of unmarked grave sites until a permanent, more comprehensive memorial can be completed next year, acting Parks Manager Ralph Deex said.
The park was one of only a few in town without a permanent identifying sign.
"It's important to put something up so people recognize the sensitivity and historical nature of the area," Deex said.
Headstones at the popular grassy slope, which for 40 years has functioned as both a cemetery and park, were removed decades ago after the cemetery fell into disrepair and the city took control.
The area has become a de facto dog park, much to the chagrin of descendents of those buried there.
"I see it as a wonderful interim solution," Patricia Clark Doerner, a descendant of about 20 people buried at the 7-acre park between Main and Poli streets, said of the signs.
Some people want dogs banned
Doerner helped craft the signs' two-sentence message: "This is hallowed ground by virtue of the more than 3,000 pioneers and early residents still interred here. Please treat this site with respect."
But some think it could spark new controversy at the park. Some want to see dogs banned (they are currently allowed on leashes) and the area restored to a gated cemetery, while other residents want the grass area left alone.
A retired Marine submitted a request to dig up and relocate a 1870 Medal of Honor recipient after learning the war hero with no heirs was among some 50 veterans interred where picnickers spread blankets and dogs run. He wants to move the remains to a national cemetery in Bakersfield.
That request is scheduled to be considered by the Parks and Recreation Commission in two weeks.
Medal of Honor winner tug-of-war
Commissioners have been reluctant to approve the request, arguing that Pvt. James Sumner is an important part of Ventura history and his remains should stay.
Although some believe the signs went up in response to the relocation request, they actually have been in the works for years, Commissioner Ed Wehan said.
"I think it's a step in the right direction," Wehan said. His personal preference would be to make the sign facing Main Street even larger "so people driving by can see them."
Last year, the City Council approved a reduced budget of about $250,000 to repair some damaged walls at the park, improve a veterans memorial there and create a fitting memorial to all buried there.
"It's a nice reminder'
It backed off on an earlier, multimillion-dollar plan that called for 3,000 bronze markers to be planted across the park's lawn. The design of the permanent memorial is still in the works, Deex said.
On Wednesday, the temporary signs seemed to have little impact on casual strollers and dog owners.
"They are nice, and I think it does show some respect," said registered nurse Michelle Taylor as her Lab, Sashi, rolled in the grass nearby. Taylor said the signs won't stop her from bringing Sashi for off-leash romps, "but it's a nice reminder."
"I think the signs look cheesy," said artist Walter Kenyon as his pit bull-Lab mix, Pippi Longstocking, chased a stick nearby.
Kenyon said it was a bad idea when the headstones were removed and he hopes the city will provide a more moving memorial. "I don't think a simple yellow sign is all that respectful, to be honest," he said.